Our Philosophy!
"The Customer comes first"!
Except the customer in this case is the dog!
Everything we do is in the best interest of the dogs in conjunction with their natural behavior and schedule. Our drop off schedule is not based on the owners needs but on what is best for the dog. Making all arrivals in the am before the start of playgroup makes introductions safer, gets all guests on the same schedule and makes adjustment easier. It is very stressful and dangerous to the dog to enter an already adjusted pack. If the "new kids" are out first then added to, everything runs smoother. The Dog comes first, not the owner.
Our Playgroups are timed to the dogs natural desire for exercise twice daily at the correct times. Early am drop offs are in the dogs best interest because they get to adjust all day long and everyone sleeps at night. This limited schedule allows more quiet time for the guests without disturbances. We apologize for the inconvenience but the ………….. "dogs come first"!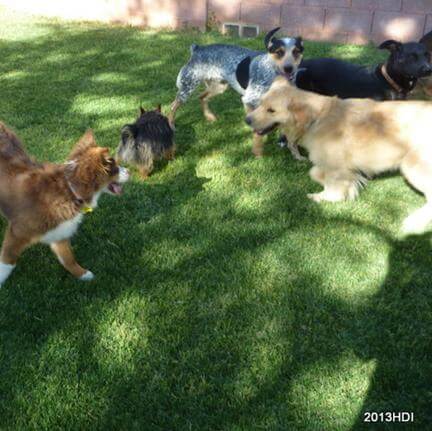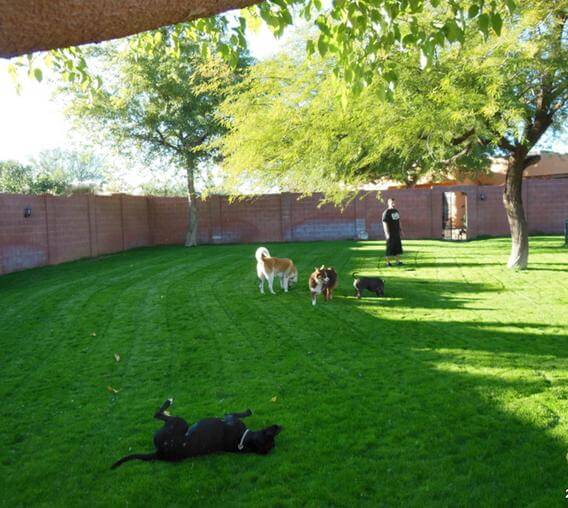 Exercise is the key to having happy guests that are well adjusted and content. Tired dogs are good dogs. Our 2 acres of play yards and nature designed schedule of exercise are what is best for the dogs, not the humans. We have real grass in two of our six yards at great trouble because the dogs love it. Fake grass is too hot, slippery and unhygienic.
"What no pool"?
Moisture is a breeding ground for insects and disease, unless we wanted to add abusive chemicals that can be harmful. Most of our guests have pools at home, but not a bunch of friends to play with.
We are only open to humans from 7-10 am and 4-5:30 pm to keep disturbances to a minimum. Although it is 365 days per year.
Every detail of The Happy Dog Inn is based on the "guests" needs and the four legged customer comes first!