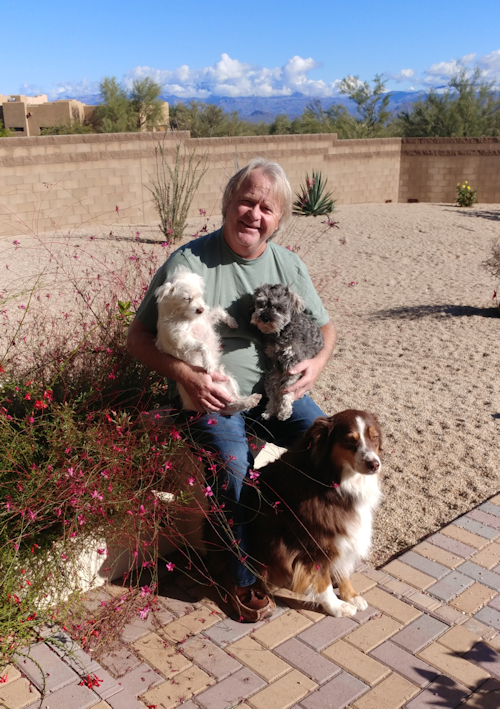 Tom Hebert
Owner and Operator of Happy Dog Inn brings more than 35 years experience with dogs. He began his professional career as a USAF Police Dog Handler in 1976. In 1982 he founded Canine Behavior Consultants in Barrington, IL to assist people with Dog Behavior problems. Part of his training included a pack behavior study and wolf study. Tom spent a week at The San Francisco SPCA to observe their Animal Behavior program. In 1992 Tom and Canine Behavior Consultants moved to Scottsdale. Tom is a court approved expert on Dog Behavior in Scottsdale, Phoenix and the Maricopa County court systems. He also taught Continuing Education classes for the Arizona Veterinary Medical Association. In speaking with many clients through the years Tom learned of the need for a high quality Boarding facility. In 2002 The Happy Dog Inn opened for business. Tom and his wife Ilana have an Australian Shepherd named Ruby, a Terrier mix named Lewis and a Miniature Schnauzer named Frank.
Sharon Barnett
Sharon started her career with animals at the Sarasota, Florida Humane Society. She worked at the shelter for seven years where she started as a kennel worker and eventually moved up to supervisor and cruelty investigator for Sarasota County. Sharon then moved on with her career with the director of the humane society, Veterinarian, Doctor Russell Reiling at the Southgate Animal Clinic where she worked for another seven years. She began as a receptionist and was later moved to coordinating the lab and to help with procedures and surgeries. Getting a knack for the medical field Sharon then decided to explore healing people; she attended massage school and worked as a massage therapist on and off for seventeen years. She then made another life change and began volunteering for the Sarasota County Fire Department. Sharon eventually completed all requirements to become a Firefighter/Paramedic and was hired at Desoto County Fire and Rescue, where she stayed for six years while maintaining her volunteer status for Sarasota County Fire Department. Sharon then moved to the opposite coast of Florida and continued her medical work with an Internal Medicine and Pulmonologist. Sharon has recently moved to Arizona and after years of many experiences Sharon has decided to return to her passion and love for animals at The Happy Dog Inn.
Donna Taylor
Donna considers The Happy Dog Inn a pleasant place to spend her days off. Her full-time role of zookeeper demands her attention to: 7 horses, 6 dogs, 2 goats, 2 cats, 2 birds, 1 chicken, 1 ferret, and 1 fish named Shark. Donna was gifted with a heart 3 sizes too big, and thus needs HDI so as not to smother her brood at home. Her work ethic is on another level, which is why you will often find her kneeling at dog-eye to embrace your fur babies with a hug.